Nag Tibba Trekking
I read somewhere that "If you see Sunrise and Sunset daily, that means you are the luckiest person" and today after a very long interval of time I saw that exceptional view of the sunrise from the Nag Tibba. I was exhausted and starving but it was a very small cost for this beautiful portrait of nature. We were lying down on the grass, watching the clear blue sky, and enjoying the calmness of that place.
But, How we get here?
Nag Tiibba trek was always in my bucket list when I heard it for the first time and finally, I got that chance to pull it out. One of my friends asked Would you like to join us for Nag Tibba Trekking? Without thinking too much, I accept the proposal.
We were three and excited about this Nag Tibba trip. We were gathered for making plans and on the spur of the moment, we decided the date, time, and fixed the whole schedule for the upcoming weekend. Next few days we finished all our packing and on a Thursday night, we departed for Uttarakhand.
To reach Nag Tibba our first main stop is Dehradun. Dehradun is the place from where the actual journey starts. It is well connected with all means of transport. You can take the bus, Rail, and flight as well from Delhi.
Road - If you travel by bus or cab it will take approx 6 to 7 hours to reach Dehradun.
Rail - Rail facilities are also available from Delhi to Dehradun on a daily and alternate basis. You can choose it according to your convenience.
Air - If you want to take air experience or want to reduce time then this is the best option for you. It takes 45-60 min to reach Jolly Grant Airport Dehradun.

Route Plan for Nag Tibba:
Route 1-Dehradun -> Pantwari -> 8 Km trek to Nag Tibba and 3 km to Nag Tibba Summit
Route-2 Dehradun- >Mussoorie road-> Devalsari village -> 13 km trek to Nag
We depart for Dehradun at 10 pm from Delhi ISBT and we decide to follow the route-1
Day- 1
In the morning at 4:15, we reached the Dehradun bus stand but before we thought about our next step, rain welcomed us in Dehradun. I don't know about you but I'm fond of untimely rain and tea. And without wasting any time, we head towards the tea stall. Sipping a cup of tea while watching drizzling and lots of silly talk with friends is always a wonderful time for me. After taking light snacks we were ready to move to our next stop which was Pantwari village and luckily the rain also stopped. To get any public vehicle/transport for Pantwari you have to first visit Mussoorie station and from there you'll get the transport for Pantwari. But we booked a taxi directly to Pantwari Village instead of going to Mussoorie -> Naina Bagh village

At 5:30 we head towards the Pantwari Village. It was a beautiful morning where the sun had not yet appeared, the breeze was flowing, which opened our sleepy eyes and introduced the freshness of this place. We left the Dehradun behind. Here the road was smooth and the window showed the changing colours of the landscape. One side with long pine trees and the other side shows the yellowish fields where people are working. By looking at these mesmerizing views, we didn't realize the pace of time and approx 9 am we reached that place where the actual trek starts for Nag Tibba.
At 9:30 we started our trek and one of my friends led us from the front because he visited there before and had a better idea about the route rather than us. That's why we didn't hire a guide. But make sure if you are visiting for the first time then you should hire a guide.
Why I'm saying this?
Nag Tibba Trek is 8-9 km long which is full of twists and turns, which go through the dense forest. Especially in winter when the whole area will be covered with a blanket of snow, then it is quite difficult to find out and be on the right path. And your one wrong step takes you to where nobody wants to be stuck which is full of wild creatures.
We were moving to our base camp but our speed was quite slow because of all our camping stuff. It was quite hard but we were motivated and after 5 hours of trek, we reached Nag Temple and we decided to pitch camp near Nag Temple. Nag Temple is 1 km before the Nag Tibba peak which is dedicated to Nag Devta. Local villagers have the Great faith in Nag Devta. The local people have been offering prayers (puja) to the Snake God (Nag Devta) at this peak which is a testament to its sanctity. There is also a water source near the temple which you can use if you run out of water. But water is not very clean so make sure you boil it or use chlorine tablets before consumption.
Day- 2
How often do you get a chance to wake up with the chirping of birds and the view of glowing Himalayas? Maybe very few. That morning was amazing for us. We woke up at 4:45 and decided to head towards the Nag Tibba Summit for capturing the beautiful sunset view. We distribute the work. I was helping my friend in packing tents and another friend making tea for us. It took a complete 15 minutes to pack all our stuff. Now we had no time for tea. We poured the tea in a vacuum flask and decided to enjoy it at the summit with a sunrise view.

At 5:02 we start the trek to the summit. The trail was going steeper and steeper after every single step. After struggling to reach the summit. Fortunately, we finally saw some flags waving in the air. We saw each other face with a devilish smile and without saying a single word, we ran to reach the top first. Yes, it sounds silly but it was a memorable laugh for us. After 50 seconds of running, we were at the top. All were completely out of breathing. It was a bit of a climb but trust me, when you reach there you will forget every little step that you took.
There were still 3-4 minutes in the sunrise. We could see the beautiful Himalayan peaks like Nanda Devi, Bunderpunch, Chaukhamba, etc and after a couple of minutes, we witnessed the awesome sunrise from Nag Tibba.
And finally, there was time to go back home. This trip was not only for fun, but it's about making new experiences, knowing our capability, and pushing our limits. Whenever I visit these types of places it proves to me that"Life is...beautiful".
Why Should You Visit Nag Tibba?
Firstly, Nag Tibba is an exceptional, easy, blissful weekend trek where any inexperienced trekker or first-timer can visit. The total Nag Tibba Trek Distance is around 8-10 km which depends on the starting place of the trek. For the Nag Tibba trek, 3 days are enough to complete the journey and to enjoy the jungle trail which offers a blissful environment, Himalayan views, meadows, & snow during winters.
There are few villages on the way to Nag Tibba Trek and one of the popular villages is Goat Village. The Goat Village, a bouquet of farm retreats and homestays managed by the local peoples, is an initiative having multiple social dimensions, increasing a new blend of Eco-Tourism, Agro-Tourism, and Rural-Tourism. This Goat village is located at an alluring location from where you can see the remarkable sunrise view, layered mountains on all sides, and experience the Garhwali lifestyle in the mountains. It is also a great way to experience the culture and rustic way of life. All the cottages in the Goat village are made with the traditional Koti banal architecture technique, with modern glass windows from where you gaze at the stars at night. There is also a cafeteria where you can try some traditional Garhwali dishes and live life like a local.
Trekking and camping is always a lethal combination and in Nag Tibba, you can enjoy both Nag Tibba Camping & trekking. This is one of the few treks in Uttarakhand where you can see enthralling sunsets, on a clear day.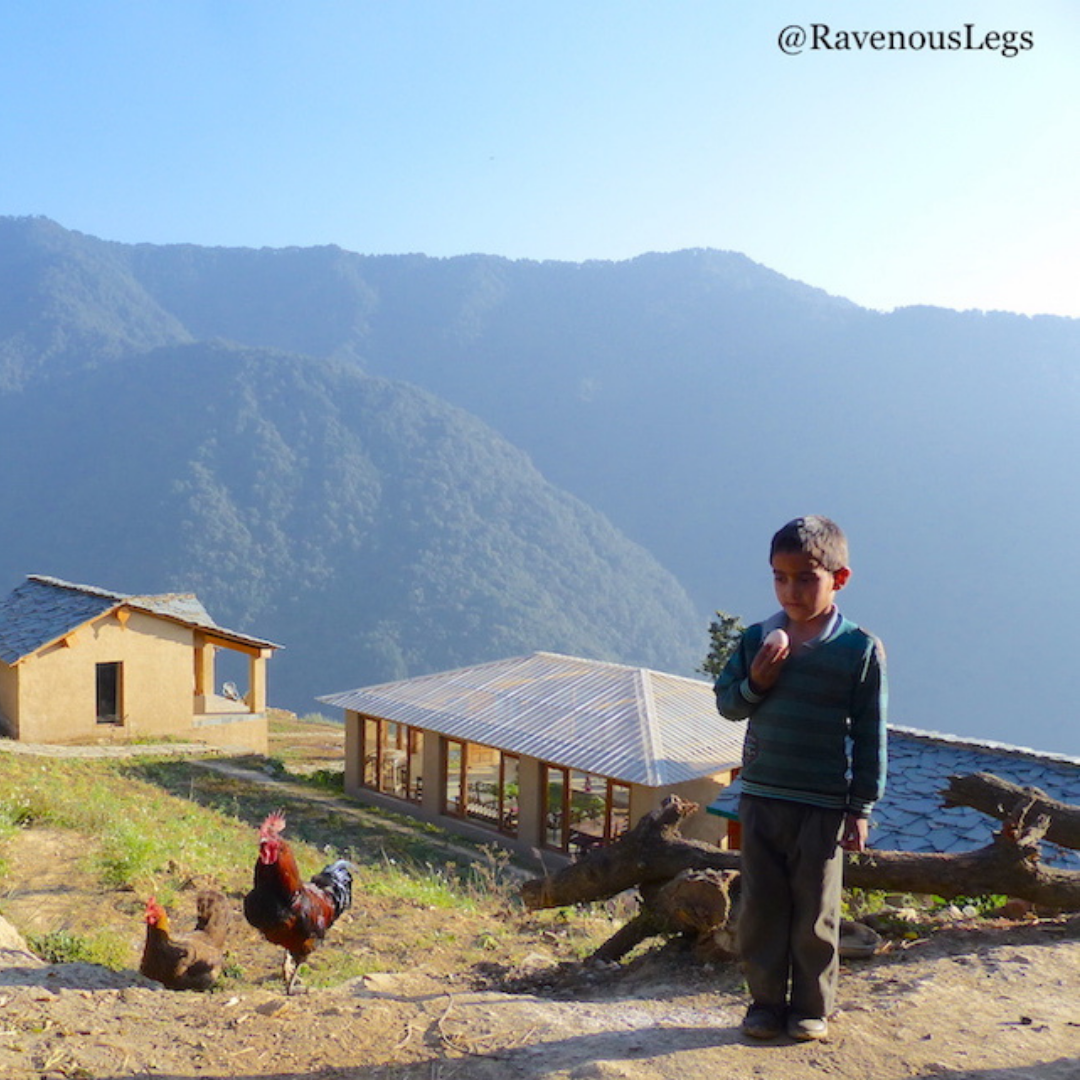 Where you can visit during this trip?
Before or after the trek, if you have some spare time then you can explore these places which make your day-
Mussoorie - The Queen of Hills - Mussoorie is the well-known hills station of India which is just 35 km from Dehradun. It is known for its lush green hills, wonderful weather, and the beautiful view of the Doon Valleys which attracts thousands of tourists throughout the year from all over the World. Camel Back Hill, Kempty fall, Gun hill, Lal Tibba, Bhatt fall, Mall road, etc are the places where tourists love to visit and if you are a daring person, and love ghost hunting then you must have to visit Lambi Dehar Mines.

Kanatal - A small village which now popular as the best weekend getaway near Delhi. Kanatal is 40 km from Mussoorie and 12 km from the Chamba town. It is a place where people love to visit on weekends/long weekends. Especially in Christmas & New Year, this place has high demand where people love to hang out with friends and family members. Jaw-dropping view of Sunrise and sunset, picnics, camping, Nature walk, Himalayan view, solitude environment are the things that Kanatal famous for.

Dhanaulti - A beautiful hill station situated in the foothills of Garhwal Himalayas which is just 25 km from Mussoorie Hillstation. It is way away from the crowds, busy roads and pollution. The green surrounding and the mesmerizing view of the snow-capped Himalayan peaks, make Dhanaulti an enticing hideaway for tourists. Barehipani Falls, Eco Park, Deogarh fort, etc are the nearby attractions in Dhanaulti.

Chamba - Chamba a beautiful town in Tehri district of Uttarakhand which is about 50 km from Mussoorie. It is known for its solitude nature, pollution-free environment, great views of Himalayas and the touch of the Garhwali culture. Nature walk, village tourism, are the things to do and Surkand Devi temple(22km), Tehri Lake(11 km), etc are the places to visit near Chamba.
Nag Tibba Trek Best Time-
Nag Tibba is a weekend destination, so it is accessible throughout the year.
Summer (April to June) - In the summer season, Nag Tibba offers a clear view of surrounding hills and mountains. The weather is pleasant in the day but after evening temperature goes down so it is better to carry light woollen clothes.
Monsoon (July, August, mid-September) - In Monsoon season, you'll find everything painted with the green colour. Sometimes you'll see trees loaded with red wine colour's flowers which makes your trek more scenic. But rain can interrupt you during the trek so don't forget to carry raincoats and waterproof bags.
Winter Season (December to February) - In Winters, you'll find everything covered with a white blanket of snow which enhances the charm of Nag Tibba and attracts more tourists/trekkers.
Pictures Courtesy:- @Ravenous Legs || @pahad_ka_beta || @thatweekendwanderer || @traveldrooler || @ibn_e_batutah || @lentevista
Related Packages