PM Modi Jim Corbett Visit
Finally, the latest episode Running Wild featuring with India Prime Minister Narendra Modi was on aired last Monday. After the hype of 4 min teaser, the fans were desperately waiting for this episode not only in the sub-continent but around the world.
Today this episode is Discovery's most trending episode and broke the world record by getting more than 3.64 billion impressions on Twitter. It is also the most trending televised event not just in India but around the world too. After the show telecast, the show host Bear Grylls said that - "Because you're incredible, India: Why I hoped my show with PM Modi would become the most-watched in TV history..."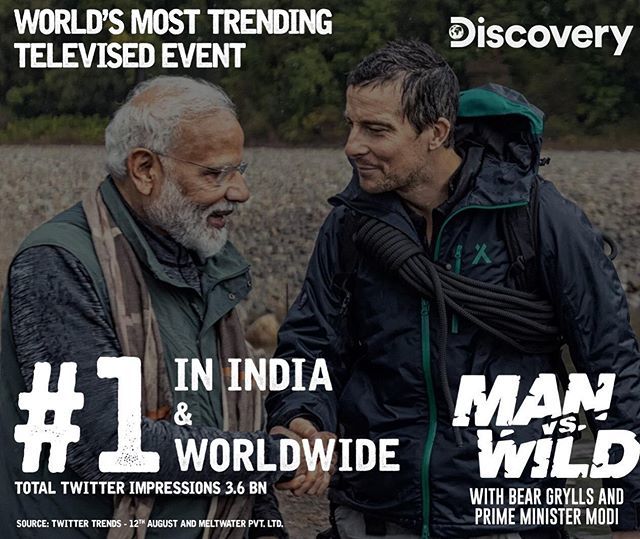 Image Source: Bear Grylls Twitter
This episode was shot in Uttarakhand's Jim Corbett Tiger Reserve. During the trekking in Jim Corbett, PM Modi and Bear discussed life, nature, country and put lights on environment conservation and climate change.
Let us tell you that - Man vs Wild is a popular show on Discovery channel which is hosted by Bear Grylls. He is a survival expert and shares survival techniques in different conditions and environment on his show. Because of the show's popularity, it is telecast in more than 150 countries in different languages.
What is the impact of this show in the Tourism of Uttarakhand?
This episode is broadcast in more than 150 countries and getting an enormous response, which motivated the department of tourism to market it accordingly. To attract more tourists to the Jim Corbett National Park, the tourism department of Uttarakhand decides to develop the name of trek undertaken by Prime Minister Narendra Modi and adventurer Bear Grylls as 'Modi Trail.
Jim Corbett is popular worldwide for the Bengal Tigers and a vast variety of flora and fauna. Thousands of wildlife enthusiastic, visit here from all around the world for adventure & jungle safari.
But those who are unaware of the Jim Corbett Park and Uttarakhand, now they are aware of this wonderland because of this episode, which helped in increasing its popularity across the world. It is expected that the step of making 'Modi Trail' will make this route even more popular, which is already famous for its rich wildlife, especially the tigers.
Image Source: Bear Grylls Twitter
Today Modi becomes a brand in India. Everybody in the World is aware of the popularity and fan following of PM Modi. Whenever PM Modi visits Uttarakhand or any other place, his popularity brings that place closer to the world.
Let's not forget that recently PM Modi's visit to Kedarnath and meditate in a cave. Today, devotees who visited Kedarnath, also visit to see that cave. People not only from India but also from abroad showing their desire to stay in the cave where PM meditated. You will be amazed to hear that - this year a record 11 lakh visitors are likely to pay their obeisance at Kedarnath before the shrine closes for winter. This number remains around seven lakh in earlier years.
Uttarakhand is a religious state surrounded by the natural beauty in North-India, and tourism is the major source of the state. For developing & promoting Tourism in the region, the state government taking small-small steps but I'm quite sure that, this episode gives a big push to Tourism of Uttarakhand not only in the sub-continent region but promote Uttarakhand tourism globally.
- by Karan Singh Bisht
Jim Corbett National Park Tour Packages
Banner Source: Unplash